This tutorial will walk you through the steps to enable 7pace Timetracker for VSTS web server on your Visual Studio Team Services account and (optional) install the Windows Client to your local system. 
Step 1: Login to Your Team Services Account
Login to https://www.visualstudio.com/ using your valid Microsoft Visual Studio Team Services account. 
*As Timetracker for VSTS is integrated with Team Services, a valid Team Services account is required.
Step 2: Install Timetracker on Your Team Services Account
After logging in, access the Visual Studio Marketplace and locate and click on the Timetracker icon.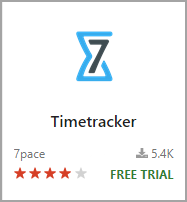 On the Timetracker application page, click Get.
The browser displays the account page.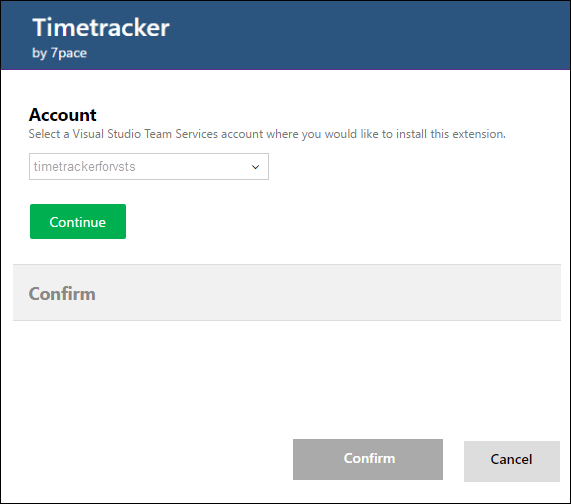 Click the drop-down list and select your Team Services account, then click Continue, and finally 
Confirm, after the installation status is verified.
Step 3: Ensure "Time" Menu Selection Displays
Once the Timetracker server component is enabled on your account, ensure that the "Time" menu selection appears on the main menu bar of Team Services.
Step 4: Download the 7pace Timetracker Windows Client
Once the above steps have been completed, you have the option of downloading the Windows Client. From the main menu bar, select Time -> "Monthly" -> Click either the "Downloads" link on Timetracker 3 or the "Clients" link on Timetracker 4 at the top-right corner of the page.
Timetracker 4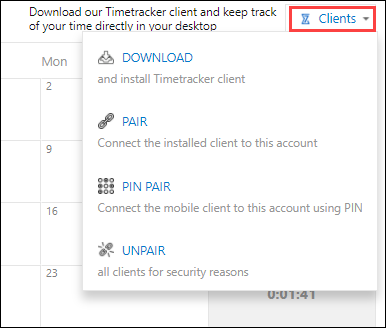 Timetracker 3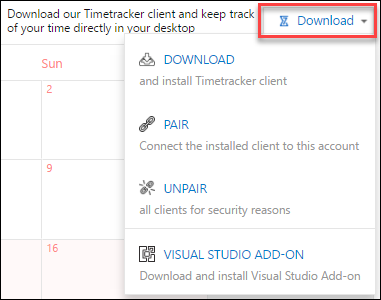 Step 5: (Optional) Pair the Windows Client
Pair the Windows Client with your Team Services account by clicking the "Download" or "Clients" link again and then selecting "Pair".
For more information, see 7pace Timetracker Client Installation and Pairing Guide.
Related Articles