With the release of 7pace Timetracker 4.24, "User Management" moved from the "Configuration" tab to Organization Settings, so that it is accessible outside of 7pace Timetracker. "User Management" now resides under the "Settings" tab of 7pace Timetracker or from Azure DevOps Organization settings / (Extensions) 7pace Timetracker / Permissions).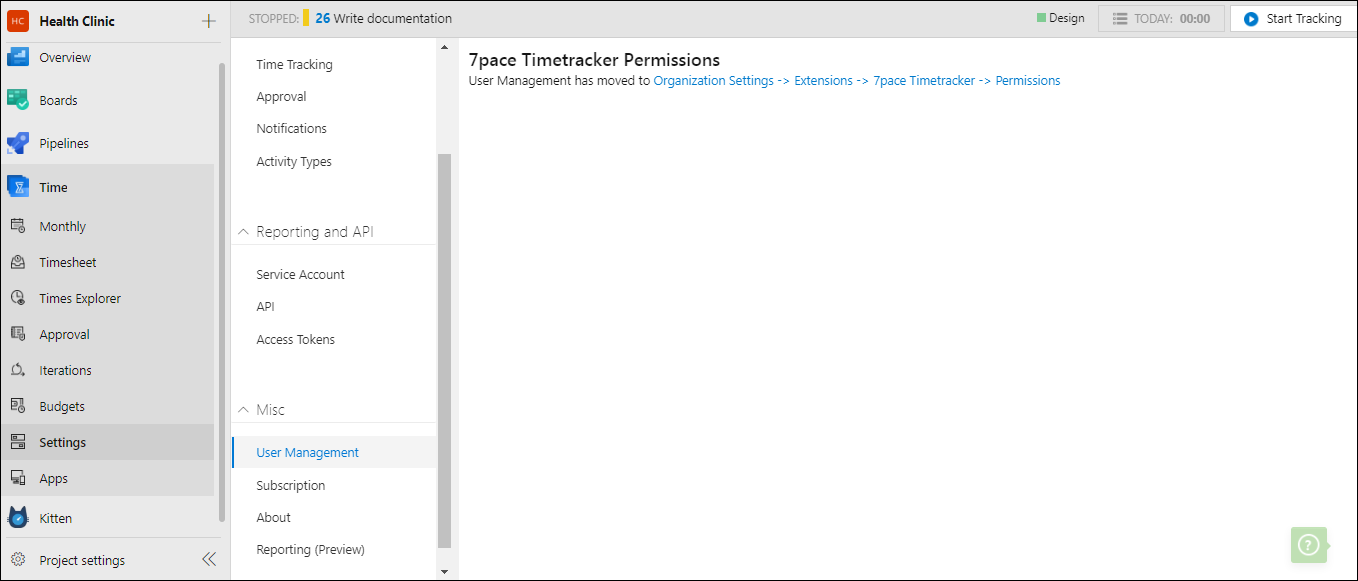 If you are a project collection administrator, you can now easily assign any of your DevOps users the permissions and user roles they require. If you have dedicated admin of a system, that person is no longer required to have an admin role (or a license) in 7pace Timetracker, but can still manage users.
Clicking on the blue path link, above, brings you to the Permissions page, defaulting to show licensed users of Timetracker.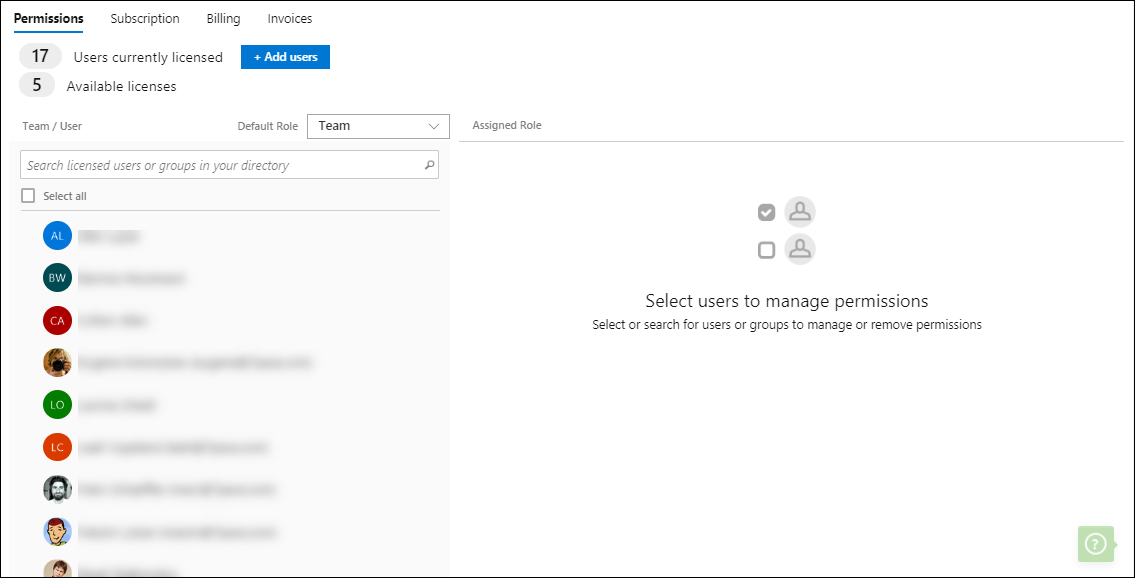 Clicking on a user causes their current role to display ("Administrator", in the example, below) and a list of assignable roles to display on the right.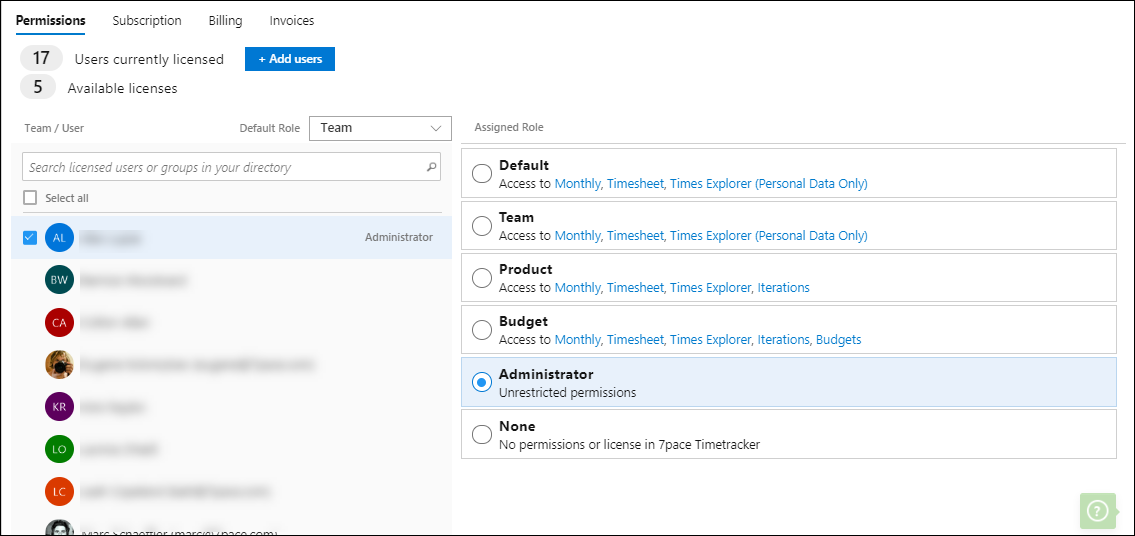 The left "Team/User" panel lists all valid users in your DevOps organization. A "Search" text field at the top lets you search for licensed users and groups in your directory. 
The right "Assigned Roles" panel displays the various "Roles" with access descriptions of the 7pace Timetracker tabs/pages that are accessible to each role (for additional information, see "User Roles", further down in the article).
Important: When you select a user in the left panel and then click on a corresponding "Role" in the right panel, the role that you assign to that user is immediately effective without having to "save" anything, with the exception of the "None" role, which will ask for confirmation.
You can click on multiple licensed users (or click "Select all") and assign them to a new role all at once (helpful for larger teams) .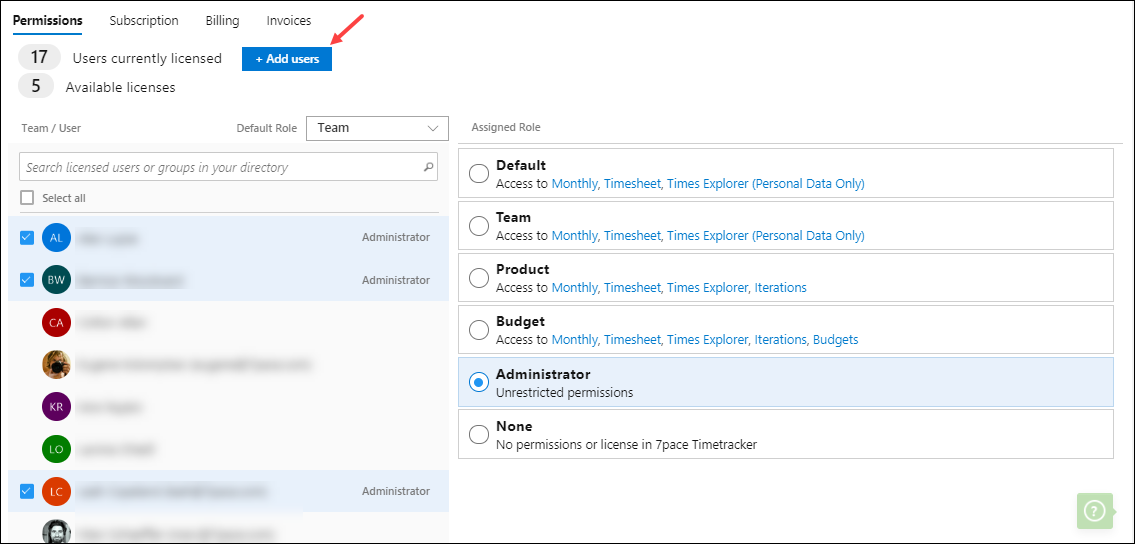 Clicking on the blue "+ Add Users" button causes a separate window to open, displaying unlicensed users.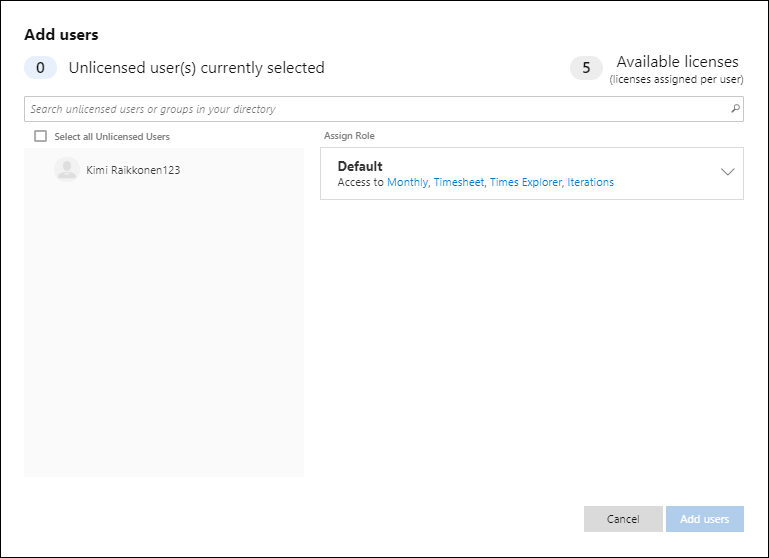 Select a user (or multiple users, if applicable) and then click on the "Assign Role" dropdown arrow on the left panel.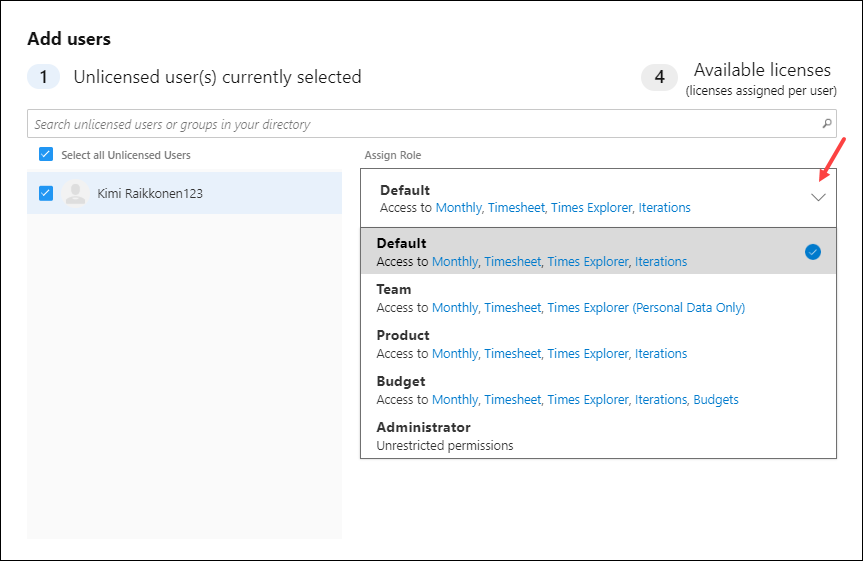 Click the blue "Add users" button at the bottom-right of the window, the window closes, and the unassigned user should now display on the licensed window.
User Roles
Below are are a few things to keep in mind when assigning permissions/user roles to your team members:
Assignment of user roles determines the information and pages accessible to the user.
All users who have access to 7pace Timetracker can create time records.
Users have full control over their time tracking.
If a time record has been added by someone on behalf of a user (e.g. by a manager for a developer), both the manager and developer can alter that record the first time, however, as soon as the developer makes any changes, it can be altered only by that developer going forward. Not even an administrator can change it at that point.
A user assigned the "NONE" role has no access to 7pace Timetracker.
Changes made on DevOps Server's own time management field "Remaining Time" are not restricted by 7pace Timetracker, even if these fields are set to be under the control of 7pace Timetracker.
Below, you will find each role on the "User Management" page defined in greater detail: 
Roles

Permission Details

Default

The "Default" role is automatically assigned to all new users of Timetracker with a DevOps account until you change it to another role on the "User Management" page. 

As an collection admin, if you decide to change the role/permissions of the "Default" role, all users assigned to that role inherit those permissions immediately. See "How to Set the Default Role in Timetracker", for more information.

Team

The "Team" role is assigned to users who should only have access to the "Monthly", "Timesheet", and the "Times Explorer" (Personal Data Only) pages.

Product
The "Product" role is assigned to users who should only have access to the "Monthly", "Timesheet", "Times Explorer" and "Iterations" pages. Users belonging to this role can use all the features on these pages, except the assignment of budgets.
Budget
The "Budget" role is assigned to users who should only have access to the "Monthly", "Timesheet", "Times Explorer", "Iterations" and "Budgets" pages.
Administrator

The "Administrator" role is assigned to users who should have unlimited access to and permissions in Timetracker.

The first person on a team to download and access Timetracker, is assigned the the admin role by the system. You can then access the "Configuration" tab and assign appropriate roles for all of your team members in the "User Management" section.

Important: You must set at least one user with an Administrator role. Timetracker displays an error message when you try to change the role of the last administrator, except when all administrator users associated with your account are directly removed from Active Directory.

None
You can use this role to restrict access to Timetracker for certain users.