Here is one example I downvoted, but it doesn't show me I did that. So next time I see this, I might forget I did it and click it again, cancelling my downvote.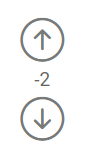 Change the colour of our own voted button to something else, so we know we have already voted in this post/comment.
Please sign in to leave a comment.