Hi 7Pace.
Thanks for a great system for time tracking in TFS/DevOps.
I recently found a bug when in Monthly you want to remove the work item from an existing registration:
In Monthly, open a day and hit the Edit pen icon for an existing registration with a work item.
Hit the X to remove the contents of the work item text field in the sidebar that appears
Hit Save
Now an error "Unexpected error occurred" shows in the top of the right sidebare.
Are you getting the same error or is it local to us?
Best regards,
SvendK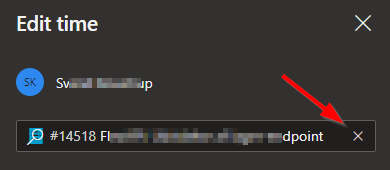 Please sign in to leave a comment.