We mostly use "Import Times" feature to get the times into the system. Currently every time we run the import we have to manually map the columns.
If possible, please add a feature where we could automatically map the columns based on the headers in the first row of the pasted data. The recognized headers could be one of the following, matching columns in your system: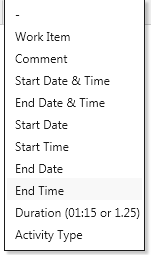 The duration header would simply be "Duration". 
This feature could be optional and driven by an additional checkbox during the import: "First row has column headers" or something similar.
Please sign in to leave a comment.