7pace Timetracker for Developers
7pace Timetracker for Managers
The work item "7pace Timetracker" tab
The work item "Start Tracking" button
The Backlog "Start Tracking" button
Work Item Automation in 7pace Timetracker
Introduction
7pace Timetracker is a professional full-feature time recording and management solution that seamlessly integrates with Azure DevOps Server (on-prem) and DevOps Services (cloud) . 7pace Timetracker allows software teams in small to enterprise-sized companies plan, estimate, and record time directly in DevOps without having to leave your environment.
After installing 7pace Timetracker (cloud) to your DevOps Services account, the "7pace Timetracker" menu will display as part of your DevOps Services side menu bar. 7pace Timetracker consists of a web server interface that allows you to add, edit, import, export, approve, and manage the time of individual team members and the whole team. There is also an optional downloadable Windows Client that can be installed on your local system, allowing you to select a work item and then track time spent on that particular work item via a start/stop watch-style interface.
From 7pace Timetracker 4 and above, time tracking moved to the server and a Web Client became available from within the web access of DevOps, allowing you to start tracking right from any work item, without any additional action required. You can use multiple desktops, run the Windows Client everywhere or just open your browser; you'll see a synced time interface that you can control from wherever you are.
7pace Timetracker has its own permission and subscription management, is fully customizable, and will work with even the most complex work item template (WIT).
7pace Timetracker for Devs
Designed with you, the developer, in mind, 7pace Timetracker lets you quickly and easily enter and track time directly on work items within the same environment in which you work, without the need for complex or time-consuming external time-logging. This integration between work done and time tracked lets you know exactly how much time you are spending on your work items, leading to better estimation and more efficient time management. You can see individual pace, remaining time, and decreasing burndown.
You can start tracking in real time or add and edit time after-the-fact, as needed. The keyboard-optimized "Timesheet" page analyzes your sprint board and shows you a weekly view of tracked time. Keyboard optimization, a spreadsheet-like list editor and blue cells (that display when a corresponding work item is "in progress" and assigned to you) make it easy to fill in your timesheet at the end of the week. You can also manually add, edit or submit weekly time on the "Monthly" page, which features a calendar interface. A fully-integrated Web Client and/or the optional, downloadable Windows Client work together or on their own to accurately track your time. You simply search for and select a work item, click start, and the time you spend working on that item is captured without having to give it a second thought. You can also track time on work items without an DevOpsID and can even import time logged in Excel on the "Times Explorer" page.
7pace Timetracker for Managers
The ease with which devs can enter and track time on work items right within their own work environment with the integrated 7pace Timetracker tool results in exceptionally accurate, real-time data quality that is invaluable to you, as a manager. The high quality of instantaneous data closes the gap on uncertainty and error and results in 7pace Timetracker-driven burndown and built-in reporting functionality that is powerful and insightful. 7pace Timetracker's integrated reports provide you with important details on the health of each software iteration or sprint. You can see how much time the team spent on each work item, which team members completed which task(s), the current burndown rate, and if things are progressing on-time and on-budget. In addition to approving time for your team members on the "Approval" tab, you can also close or lock weeks for future time entry or editing.
There are many options for managers to transport data-driven knowledge to their team, fellow managers or customers. A custom budgets component can be connected to iterations, releases, features, work items, and to single worklogs. The "Budgets" page of Timetracker acts as a powerful analytic and reporting tool, provides you with a completely transparent, real-time view of where work efforts flow, and assists you in billing your clients. On the "Times Explorer" page, you can preview worklogs before assigning them to budgets; select, filter, and group columns to suit your needs, and add, edit, import and export (from Excel) individual or batch worklogs. The REST accessible Reporting API, based on OAuth and OData, supports analytics tools like PowerBI and permits integration with systems like Project Server. WYSIWYG and rich data export provides managers with Excel-based data for additional processing.
The Work Item "7pace Timetracker" Tab
7pace Timetracker is fully integrated with your DevOps Services account. Any time you click on a work item, the work item "Details" popup window displays. On this window, an additional tab displays when you have 7pace Timetracker - the "7pace Timetracker" tab - which shows the total time spent by you and your team members on that work item and all child items.
The "7pace Timetracker" tab also features an Add Time button that enables you to add time directly to a work item. This "Add Time" button can also be found on the "Monthly" and "Times Explorer" pages and as "New Time" on the "Timesheet" page. When you click on "Add Time" within a work item and on the "Monthly" page or "New Time" on the "Timesheet" page, the resulting "Add Time" dialog box renders certain fields, like the "Person" (name) and "Work Item" fields as read-only. These fields automatically populate with the signed-in user's name in the "Person" field and with the current work item ID. These fields are only editable on the "Times Explorer" page, so a manager can add time for his/her team members. For more information, see "Monthly" Page: Adding, Editing or Deleting a Worklog.
If the "Activity Types" feature is enabled by an admin on the "Settings" page -> "Activity Types, the "7pace Timetracker" tab will display any time tracked to work items that have been assigned an activity category under a section called "Activities".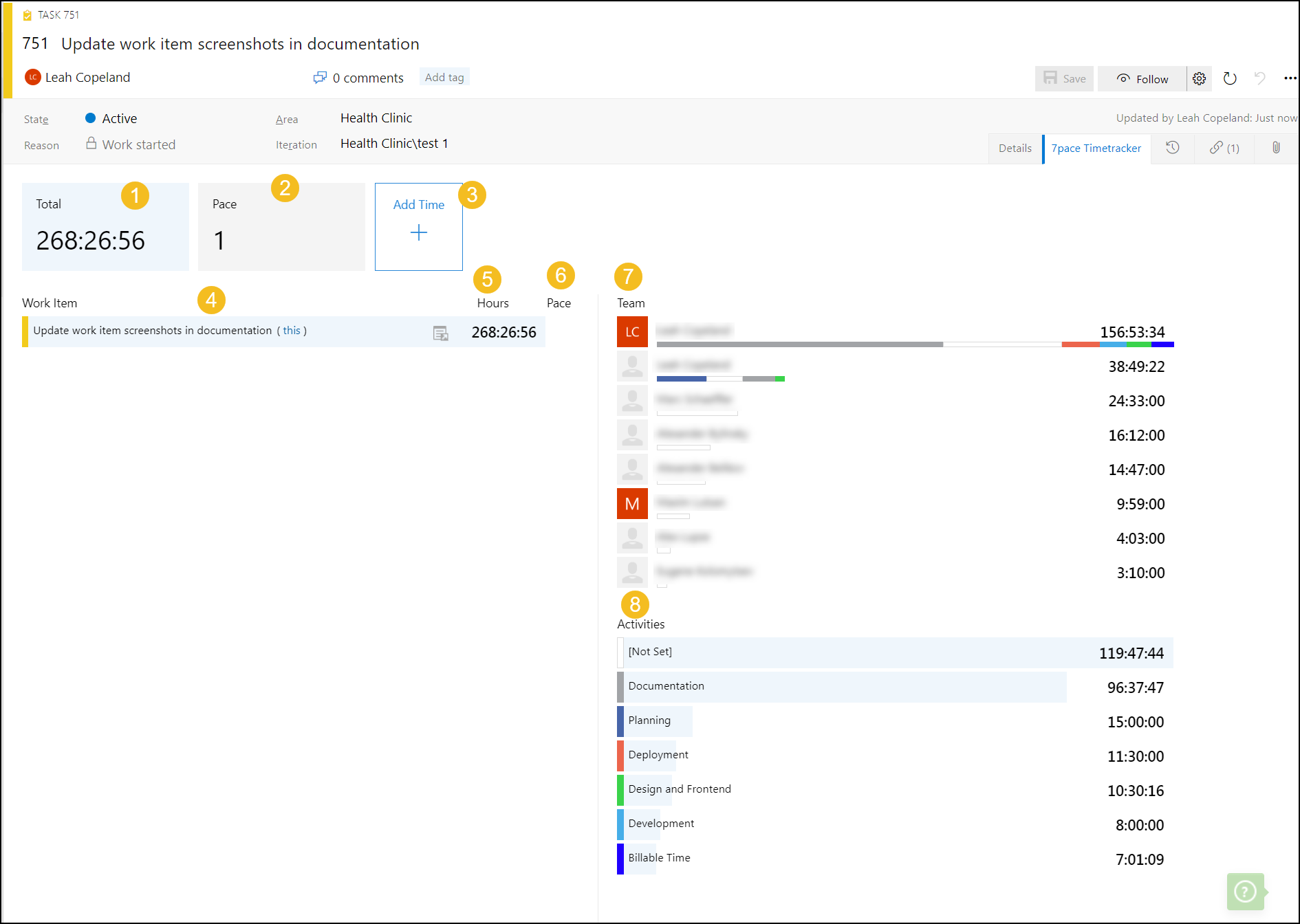 Here is a breakdown of the "7pace Timetracker" tab within a work item and its main features:
#

Description

1

Total

Total time (in hours) tracked for the work item, including time logged for all child items.

2

Pace

The pace at which the task is performed. This number is calculated by dividing the number of tracked hours by estimated effort.

3

Add Time

When clicked, displays the "Add Time" dialog box so you can add time directly to the work item.

4

Work Item

In the lower left quadrant of the window, you'll see the work item, total time tracked for the parent and all child items. Clicking on the icon opens the work item details on the Times Explorer page.

5

Hours

The total time tracked for the specific work item.

6

Pace

The pace of the person working on the item is shown only for the PBI type work item.

7

Team

In the lower right quadrant of the work item window, the users who tracked time for the work item display. The activity type of each user also displays if an admin has enabled the activity type feature in Settings. Hovering over each configured color in the bar shows a tool tip with the time tracked to that specific activity type.

8

Activities

The time logged toward each configured activity type .
The Work Item "Start Tracking" button
Once 7pace Timetracker is installed and you click on a work item in DevOps Services, you will notice that a "Start Tracking" button displays (see screen shot, below) on the resulting work item details window. Clicking this button will open the 7pace Timetracker Windows Client (if you have downloaded and paired it from the "Apps" page) and also initiate tracking on the Web Client for that work item immediately.
The Work Item "Details" Page: When you open a work item to view or edit its details, you will see the Start Tracking button.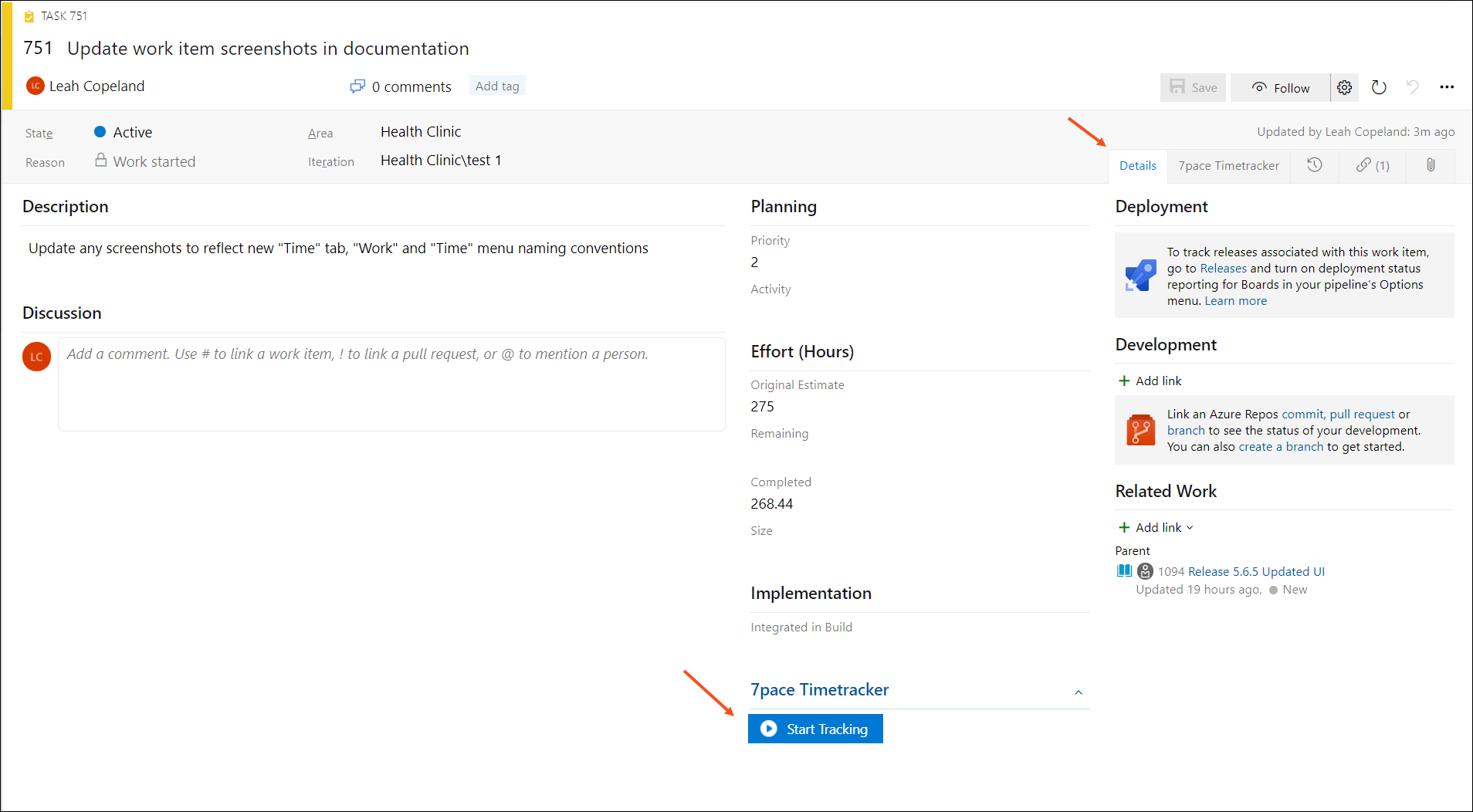 The Backlog "Start Tracking" Button
In 7pace Timetracker, the "Start Tracking" button is also available directly from any of the DevOps Server and DevOps Services Backlog pages (Backlog, Queries, Boards, etc.) in the work item context menu. Clicking this will kick off time tracking throughout 7pace Timetracker – and you will see the results of this action in the Web Client, work item form, and in the downloadable Windows Client.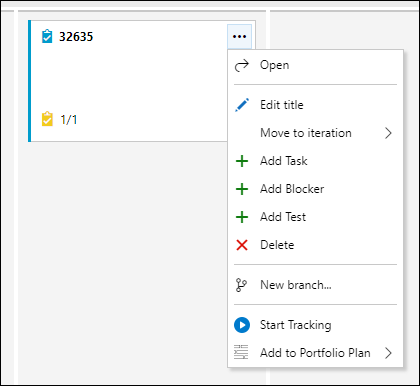 Email Notifications
Left your desk and forgot to switch off tracking? If enabled, 7pace Timetracker sends an email notification when tracking was stopped by the system due to no response from you during activity prompts. All users can set up their own personal preferences for email notifications within the "Settings" page.
For more information, please see the "Time Tracking" article within our user documentation.
Client API
Our Client API is now fully documented and available to the public. You can develop your own client or connect 7pace Timetracker to existing automations in your IT landscape.
For more information, please see 7pace Timetracker API Reference in our user documentation.
Work item automation in 7pace Timetracker
When you click on "Work Item Automation" within 7pace Timetracker's "Settings" page, you can control the integration of 7pace Timetracker with the time management capabilities of Azure DevOps.
For more information, please see "Work Item Automation: 7pace Timetracker".
RELATED ARTICLES